2023 Annual BBQ and AGM – Important Announcement!
August 18, 2023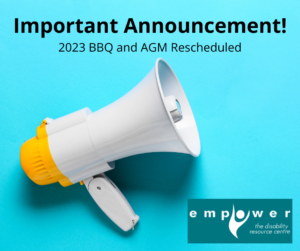 Due to inclement weather being forecasted for tomorrow, our Annual General Meeting will be offered through Zoom tomorrow at 11:00.
Our Members BBQ will be rescheduled to next Saturday at 12 pm at the North Bank Lodge
The link to connect is below – if you have any questions, please don't hesitate to reach out.
(There are 6 prize draws for Members who attend the AGM)
Topic: AGM – Empower, The Disability Resource Centre
Time: Aug 19, 2023 11:00 AM Newfoundland and Labrador
Join Zoom Meeting: Zoom link to join Empower's 2023 AGM