National AccessAbility Week 2023 – Celebrate!
May 30, 2023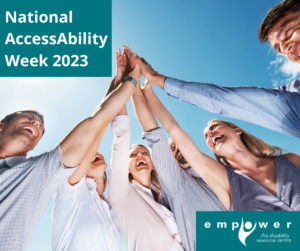 During National AccessAbility Week (NAAW) we celebrate the valuable contributions and leadership of Canadians with disabilities.
At Empower we recognize, appreciate and celebrate the hard work of all people with disabilities daily.
The staff of Empower would like to thank Kathy Hawkins, for her dedication, support and inspirational leadership during the last 18 months as Executive Director (I), as well as the many years of hard work with Empower, InclusionNL and the disability community prior to that.