Volunteer Week – Andrew Dixon
April 19, 2023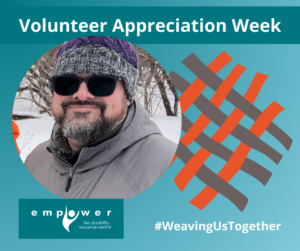 I'm Andrew Dixon and getting involved with Empower was a mixture of wanting to volunteer and wanting to understand my own disabilities.
In the 5 years that I've volunteered I've participated in a few ways but most recently I served as a delivery driver for one of Empowers programs. I dropped off/picked up gift cards and raffle tickets.
Volunteering improves my life in a couple of ways. First, it helps me get to know other people and socialize. The real-life stories of people that I meet also helps me at school where I conduct research. Meeting people and understanding their lives grounds my work.
As a PhD student, I don't have a lot of time. What free time I do have is spent with my wife and children.