Volunteer Week – Dana Howse
April 22, 2023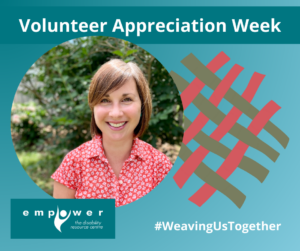 My name is Dana Howse and I became involved with Empower when I met Kathy Hawkins and Mandy Penney while doing research on the challenges and supports of work-related travel for people with disabilities.
I have volunteered with the Inclusion Crew at the Royal St. John's Regatta and Mt. Pearl Frosty Festival since 2019.
I have learned a lot about accessibility and inclusion from Kathy and Mandy, and through my volunteer work with InclusionNL. I am glad to be part of a group that strives to make public events in NL welcoming and accessible to everyone.
In my free time I play ultimate frisbee and I love to hike the East Coast Trail with my dog.