Volunteer Week – Jennifer Russell
April 18, 2023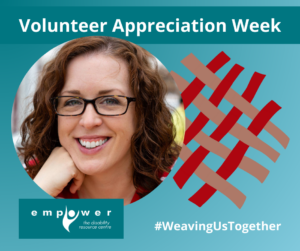 My name is Jennifer Russell. I became involved with Empower through the Garden Committee.
For almost 4 years I have assisted with planning and planting the garden. I love working with the Gardening Committee, it's such a fun project!
In this case, I get to enjoy the company of others as I garden, and I also get to witness the positive effects that gardening has on other people.
In my free time I love reading, outdoor activities like hiking and snowshoeing and, of course, gardening.